Welcome to the TV Antenna buying guide. Here we hope to dispel the fog around what antenna you need, where to mount it, what brand to buy and various other intricacies involve with getting the correct antenna and good reception.
What antenna hardware do I need to get TV reception?
What brand of antenna should I buy?
Where do you start? Well at the top, of course, this is where the antenna will be mounted. There are many TV antennae on the market and most work ok, but what you pay for is exactly what you get. The main and biggest long-lasting brand in this country is Matchmaster. This is, in my opinion, where to start and finish. My 40-year relationship with this product is a statement to its reliability, build quality, and performance.
What channels will I get?
A TV Antenna designed for Australia will pick up the necessary frequencies (channels) that are in your area. Your proximity to the transmitter and surrounding terrain will also affect what channels you get, i.e. the strength of the signal.
TV channels received are on UHF (28 to 69) depending on the area. It is in blocks of 4,  e.g, 29, 30, 31, 33. Each of the 4 channels are grouped, e.g. 29 is 7,71,72,73,74,76,78,  30 is 2,21,22,23,24, and so on. In reference to satellite, all stations broadcast on free to air are available on the vast satellite network.
Overcoming bad TV reception areas
This is a lengthy subject and I will do my best to impart some knowledge in this area. In a lot of cases, you can simply install the antenna outside point it in the correct direction, and viola you have TV. Then you have areas that are troublesome, and these areas have landforms or obstructions that interfere with the TV signal. Because most signals for TV are now transmitted on the UHF band, it relies on what is called LOS (line of sight). The old method of putting a TV Antenna a million meters into the sky has very limited relevance, as what happens with UHF is when you take it up high, (particularly where trees are present) you are taking the antenna into the thick of the canopy which may be fine on a still day, but as soon as a breeze kicks up the signal will vary, sometimes and in most cases, it will drop below a threshold. Below this threshold, you will get what is called pixilation that will start with clicks and pops and just ruin the whole experience.
So what do you do? If you bring the antenna down below the canopy line, you will have a better chance of success. This is where it can still be tricky. Most DIY people are flying blind when it comes to determining the correct installation position. This position is determined by what is called a Field Strength Meter. This device measures each station and relays this information onto a screen which then gives you a real-time analysis of what is happening.
Choosing the best spot to mount an antenna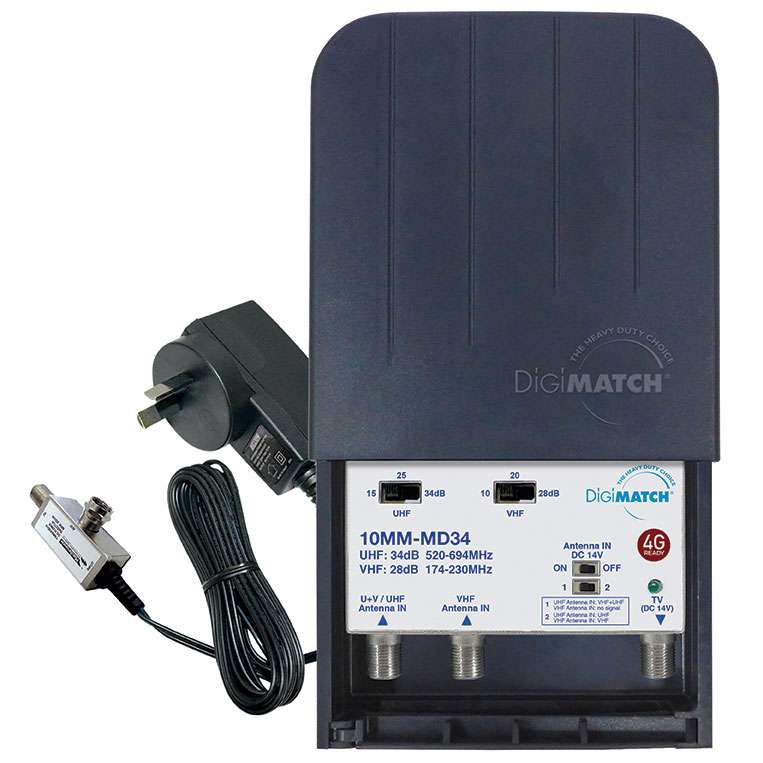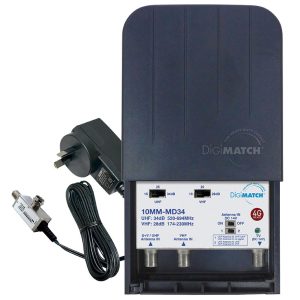 To know what mount to buy you need to know where to mount your antenna. The best way to mount your TV Antenna is to get the help of a trusted local installer. If you feel confident enough to tackle this yourself, read on below…. and then call your local installer!:)
What we need for a good signal is called a good MER – Modulation Error Ratio. This is a measure of the signal quality taking into account the sum of all interference effects occurring on the transmission channel. When mounting your antenna, by merely moving it 500mm to the left, right, up or down can make or break a reliable picture. This MER reading should be over 25 at an absolute minimum. A MER of over 31 is great. Confused? Read on…
So we are presuming now we have achieved a reasonable MER on each station. Good TV signal levels are between 55 – 70 DB microvolts. The bottom end levels would be 40 – 43 DB microvolts. This is the minimum you should aim for. If all else fails 36 is the bare minimum if there is absolutely no other way of improvement, this is considered to very low. If you want to run 2 TVs or 4 it will probably work, but once again we have another issue, signal loss. We need to boost the signal up! This is achieved with what is called a MASTHEAD AMPLIFIER. These are designed to increase signal up into a threshold where all TVs will operate.
How to mount the TV antenna
Most antennas receive UHF and for mounting, a standard height of 1.05 meters to 1.2 meters is sufficient.
The most common type of antenna mount is a tile roof mount or a tin roof mount tripod. These are simple, effective, and strong. The best place to mount them is as close to the top of the roof as possible on the backside of the house, so as not to look unattractive or be in full view. Getting it lower so it can't be seen is nice. A 'J bracket' mount will allow you to mount the antenna into a facia board. Just be aware that all J mounts are not the same, the antenna company sells 1.2mm thick full galvanized 90-degree bend units, not tin. Fully galvanized is a better option.
If you live behind a hill it can be harder to achieve good results but not impossible. A TV signal behaves in a weird way when it comes to hills, it will fly over the top then dip into the valley I have found a signal 4 ft off the ground in an environment where 60ft masts were erected. There is a trick that can be done to get a signal. This is called stacking, so we use 2 or 4 antennas linked together to achieve more gain. This is a tricky process and would have to be a one on one discussion to explain what to do, but it's achievable. It must be four of the same antennas and exactly the same cable lengths through a quad plexer / or diplexer to blend all cables to a single feed.
Going back to boosters again, sometimes you need two boosters inline depending on cable run and good quality boosters allow you to daisy chain to keep the levels up. This effectively allowing hundreds of meters to be covered which is particularly good if you decide to mount the antenna on top of a hill and run the cable back to the house.
Just remember that mounting a TV Antenna is generally something that requires specialist equipment, such as signal finders, ladders, and safety gear for working at height. Its something you might need doing only once in your lifetime, so don't mess around doing it yourself, call a professional antenna installer.
Servicing
A good quality antenna brand, such as the Matchmaster, will need next to no maintenance for its lifecycle. The Matchmaster range (the Australian made ones) come with a lifetime replacement warranty! Now that's impressive. Matchmaster also has Chinese made (some of the range) as well, but they are made to our specs and are just incredibly well built.
How do I find a reliable antenna installer in my area?
Good question. Well, this is a needle in a haystack scenario, you see the TV Antenna Industry still hasn't been licensed so anyone can buy a ladder and some tools and profess to be an Antenna installer there are a lot of cowboys in any industry and this one is no different.
What you have to check for:
Check what online presence they have. Do they have feedback that reflects competent service?
When you call them, do they answer with a good morning or good afternoon Smith Antenna Service?
If they have no online presence or answer the phone like they just got out of bed, move on. Many 'jack of all trades' answer purely with a 'hello' as they wear many hats.
I would advise against going with a free quote, two things will happen. This can result in 'a foot in the door' scenario so to speak, and once on your property a pushy installer/technician can make you feel committed no matter what the price. This happens often and means you end up paying way over what it should be. Also in a lot of circumstances, it's a simple fix, a realignment, re termination, new booster, or new antenna at worst.
Ask for the hourly rate upfront. A professional company, eg the Antenna Company – shameless plug:), will say what their call out and hourly rate is upfront.
Professional outfits that have all the tools and stock on hand, are ready to go 98% of the time and will fault find and rectify the situation with minimal fuss. Company A may say $45 per hour but charge double for the antennas or Company B will charge $85 ph but charge a trade price for parts. Some charge full tilt on all aspects.
In Summary
So as you can see there is a lot too installing an antenna. We hope the above helps you get your antenna sorted or clarifies what to look for when finding an installer. For the right advice call me, John, from the Antenna Company and we will sort out what you need.
Most Popular TV Antenna Products